PE
'Coach me & I will learn, challenge me & I will grow, believe in me & I will win.'
'It's not about being the best, It's about being better than you were yesterday.'
At Treloweth School, we believe that Physical Education contributes significantly to children's learning and development across physical, social, emotional and cognitive domains.
We also believe that, when Early Years and Primary Physical Education are taught well, that they lay the foundation for a healthy lifestyle.
As a school, we are fully committed to a model of curriculum delivery that focuses upon a developmental, inclusive and safe approach, where children's acquisition of fundamental movement skills is of high priority.
We deliver a wide range of physical activities at Treloweth with the aim of engaging and inspiring all of our children. We are committed to ensuring that all children receive at least two hours of well-planned, high quality Physical Education every week.
During the year every pupil receives a wide range of lessons encompassing Games, Athletics, Gymnastics, Outdoor Education and Dance lessons. Swimming lessons are also incorporated into the curriculum for classes in Years 4, 5 and 6.
We believe that physical education, experienced in a safe, engaging and supportive environment, is a significant factor in developing our children's physical competence and confidence.
 At Treloweth, we promote physical skillfulness, physical development and knowledge of the body in action. We aim to give a stimulating, enjoyable and appropriately challenging learning experience. Children may work individually, in pairs or take part in group activities. During co-operative, creative and competitive situations they are always encouraged to use their improvisation and problem-solving skills.
As a school we strive to bring competitive sports to your child entering competitions, including football, netball, swimming, gymnastics and athletics. We also take part in dance, cricket, tag-rugby and tennis competitions throughout the year.
Aside from competitive games, we also promote sports through a variety of early morning and after-school clubs at the school. This year we have worked hard to expand our extra-curricular sporting provision and offer a wide range of opportunities for the children from EYFS to Year 6 to participate in.
Through a broad, balanced and creative curriculum, we hope that all of our pupils become confident individuals, and successful learners, who adopt a healthy lifestyle.
Intent
Our ambitious PE curriculum enables our pupils to create positive relationships with physical activity for life. Through our PE lessons and sporting opportunities children develop personal characteristics such as resilience, collaboration, fairness and respect. We promote health and fitness; believing that young children don't need to be trained in sports, they need to be physically educated.
Pupils develop the skills and competencies to take part in a wide range of competitive sports and activities. Our coherently planned curriculum which includes 'learning nutrition': ambition, clear personalised outcomes, success and failure, challenge appropriate to the child, praise for positive behaviours, celebration and review of progress, coach and support others, and control.
Pupils will continue to apply and develop a broad range of skills and learn how to use them in different ways and to link them to make actions and sequence of movement. They should enjoy communicating, collaborating and competing with each other. They will develop an understanding of how to improve in different physical activities and sports and learn how to evaluate and recognise their own success.
The curriculum and the schools wider work support pupils to develop resilience, confidence and independence and lead a healthy and active lifestyle helping them to know how to keep physically and mentally healthy.
Implementation
30-60 minutes of physical activity is embedded in the school day using a combination of 'Fitter Future, The Daily Mile, Active Play, Outdoor Trim Trail and Just Dance or Go Noodle'.
In KS1, pupils will develop fundamental movement skills, become increasingly confident and competent and access a broad range of opportunities to extend their agility, balance and coordination individually and with others. They will engage in competitive (both against self and others) and cooperative physical activities in a range of increasingly challenging situations.
In KS2, pupils will continue to apply and develop a broader range of skills, leaning how to use them in different ways and to link them to make actions and sequence of movement. They will communicate, collaborate and compete with each other.
REAL PE prepares pupils to gain the necessary skills to compete in local and County competition in sports. Pupils have at least one hour PE a week through a taught lesson in games, gymnastics, dance and athletics using the REAL PE scheme of work. Pupils develop the skills and tactics to play competitive sports such as football, netball, hockey, rounders, cricket,
handball, golf, basketball, swimming, athletics, tennis and dance. The school plays a full part in sporting competitions, giving pupils of all abilities and ages the opportunity to represent the school in local and County competition.
Out of hours activities provide opportunities for further enrichment and include football, keep fit, dance, gym, boxing, circuits, wheelies, cricket/rounders, surfing, netball/basketball, quad kids and Bikeability.
The school organises an annual sports day for all children to demonstrate their improved fitness in a range of athletic events.
At a glance
• National curriculum guiding principles inform year group subject mapping documents
• PE is mapped across year groups in small sequential steps using REAL PE scheme of work and end points identified (to know, do and experience)
• All classes have a taught lesson of PE every week and participate in the 30-60 minute daily activity
• Treloweth ½ term Progression Documents plot sequential small steps
• Lessons activate prior knowledge, introduce, use and apply specific vocabulary, learning is demonstrated practically
• Information for parents can be found in ½ term overviews, Class Dojo & REAL PE home log in
• Photographs and results can be found on class website pages, newsletters and display
• Links to other subjects include: active maths, reading & writing, science
Real PE links: Learning Nutrition
Learning-Nutrition-e-doc-FINAL
EYFS
Core-real-PE-FS-Curriculum-Maps
Year 1
Core-real-PE-Y1-Curriculum-Maps
Year 2
Core-real-PE-Y2-Curriculum-Maps
Year 3
Core-real-PE-Y3-Curriculum-Maps
Year 4
Core-real-PE-Y4-Curriculum-Maps
Year 5 & 6
Core-real-PE-Y5-6-Curriculum-Maps
Progression Of Skills Document
FUNs Progression of Skills
FUNS-Fundamental-Movement-Skills-Progression-of-Skills
After School Clubs
We offer many sports-focused after school clubs, and can direct children, parents and carers to local sporting clubs, so please do ask. Click on the link below to see which clubs are running this term.
Healthy Schools Award
We have been awarded the Healthy Schools Award, which recognises our commitment to improving the education around making healthier choices.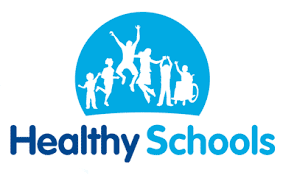 We are proud to work with Healthy Schools Cornwall. Their website is full of great resources for both the school and parents. This can be found at: http://www.cornwallhealthyschools.org
'Bikeability'
We encourage children in Year 5 and 6 to develop their understanding of road safety, including on bikes, through 'Bikeability'.